Plastic injection molding tool room
The tool room should not look like an afterthought of plastic injection molding. The environment in which the work is done, is quite often indicative of the final plastic parts. There is a big difference between welding up a cavity and making it work compared to using quality techniques and equipment to restore it to original dimensionally correct specs.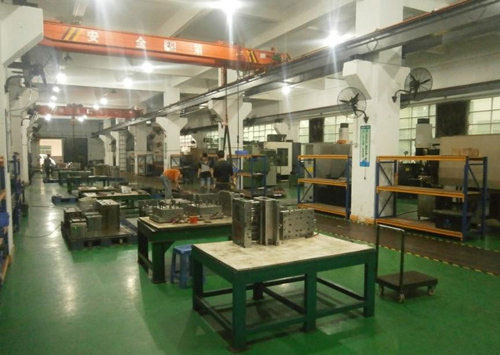 I have witnessed many cases where productivity (injection mold had to be run differently/slower etc.) was lost or quality became sporadic because of poor craftsmanship in the tool room. The tool room dollars should be maximized to make sure that what is being done there is correct. This is usually going to require Engineer/Executive level research which is not the norm unfortunately. In many cases it would be better to clean house and start with one or two skilled people along with 1 good machine. I have worked with several companies to "revamp" their tool rooms". It is my experience that it is best done in small steps with major cultural changes needed. The first thing I tell them is to evaluate the actual talent base because labor is the X-factor.
In a recent evaluation I did of tool room skills at a large plastic injection molder, I found that 50% of the tool room did not know how to properly square a block on a milling machine. All of this "skilled labor" was making $20 plus per hour. There was a whole list of things from dressing radii on a grinding wheel to measuring shut-offs with an indicator. The reality was the
injection molding company
was spending enough money on this "skilled labor" to buy 2 new CNC mills and 1 EDM that will allow them to build 25 new plastic injection molds a year, along with keeping up with repair. My forecast is that in the future they will find they are dealing with fewer molds that are labeled "Problematic" because of shoddy repair practices which will increase capacity for more new injection mold builds and engineering changes. At the end of the day, the tool is as important if not more than the
plastic injection molding
equipment itself. If you are buying high end Japanese or European injection molding machines, then you should be buying high-end Japanese or European Milling and EDM machines to make and repair the plastic injection molds.
For some it is just best to send it all out because of budget restrictions. In which case, you can not be billed as full service. It looks like your company has good leadership and will have sustainable long term success in providing the best final plastic parts in timely manner for its customers. Let's hope that other companies continue to follow suit.
Welcome to ACO Mold injection moulding company and contact us.
The mould engineers from ACO Mold will give you the best solution, and recommend the suitable materials for you. We are ready and looking forward to cooperate with your next project. You will be happy and satisfied to be our partner in mould making and injection moluding project.