Plastic injection molding hot runner system
Hot runner is a set of temperature control heating-device, installed in the plastic injection mold, it is part of the mold. A Hot Runner System is used to maintain a molten flow of plastic from the injection molding machine nozzle to the gate in a
plastic injection mold
.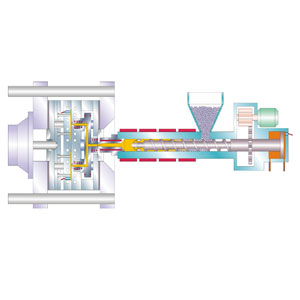 Advantages of a Hot Runner System
Reduce cycle times.
Remove cold runner that would be either scrap or require regrind.
Improve part consistency and quality.
Reduced gate mark.
Reduce injection pressure.
With valve gates, makes sequential filling and family of parts molds possible.
Offers more process control for fine tuning.
The system is generally composed of three parts, the sprue bush, the manifold block and one or more hot nozzles. The system can also include valve gates which are a method of physically shutting the gate off, giving a better cosmetic appearance and allowing larger gates to be used.
The critical areas of performance for a hot runner system are:
Precise temperature control of the molten plastic to avoid degradation.
Balanced flow to all cavities giving even filling of parts.
Nozzle sizing for maintaining sufficient molten material flow.
Gate detail to correctly fill the part but also shut the gate off after filling ensuring.
minimal drool and short cycle time.
No traps or areas of flow hesitation to ensure quick color change and prevent.
material degradation.
Minimum pressure drop across the hot runner system.
Reasonable melt residence time.