Mold Making for Plastic Products in China
Mold is tooling for high-volume manufacturing of plastic products, which has a wide range of application in various industries such as home appliance, automotive, aerospace.
Before high-volume production of plastic products, mold making is essential and especially important one step. The mold making process level directly affects the quality of injection molding plastic products. If you want to cooperate with Chinese injection molding manufacturer on mold making project, you can learn about mold making process, which will help you better remotely control and manage your tooling manufacturing project.
Mold making process of ACO Mold injection molding company as followings:
Mold design
After receiving 2D/3D product drawing or sample, injection mold making companies won't do parting line firstly. The most important work is to check product structure, including demolding, wall thickness etc. Having a well know about information such as the product assembly relationship and the product usage is very helpful for the design of mold structure.Common used mold design software:UG, Pro/Engineer, AutoCAD, Cimatron, PowerMill Hypermill, Solidworks


Mold material selection and preparation
Mold materials selection is a very important part of the entire mold making process. The mold materials selection needs to meet three principles. The mold should meet the work requirements of wear resistance, toughness, etc. Besides the process requirements, the mold should also meet the economic applicability. After confirming mold design, injection molding factory begin to purchase mold materials for mold making. Some mold materials can be prepared immediately once mold design is confirmed, such as mold base and mold steel, which will save injection mold making time.


Mold machining
Mold steel should be rough machined, heat treated, and finished. After purchasing mold steel, mold steel need to be rough machined. The so-called "roughing" is to machine the mold general shape with machine tool. The machine tools and tools used for roughing are relatively inferior, so the processing speed will be faster. There is need to leave a margin when roughing, usually 0.15-0.3mm mold steel left is enough. And then perform heat treatment. Mold steel heat treatment generally includes ordinary heat treatment, surface heat treatment, and deformation heat treatment. After heat treatment, finishing for mold is performed with precision machine tools and tools.


Mold fitting
Mold fitting work is done by fitter. According to the mold fitting drawings and technical requirements, mold parts are matched, positioned, connected and fastened according to a certain process sequence, so that it becomes a mold that meets the requirement for high-volume production of the plastic product, which is called mold fitting.


Mold trial
How do we know the mold quality? We can know mold quality and find problem by mold trial. Improper mold design often causes defects in the finished product. Before mold modification, perform mold trial and evaluate, optimize the mold design and process parameters, usually can achieve twice the result with half the effort, while meeting the high quality requirements of high-volume injection molding.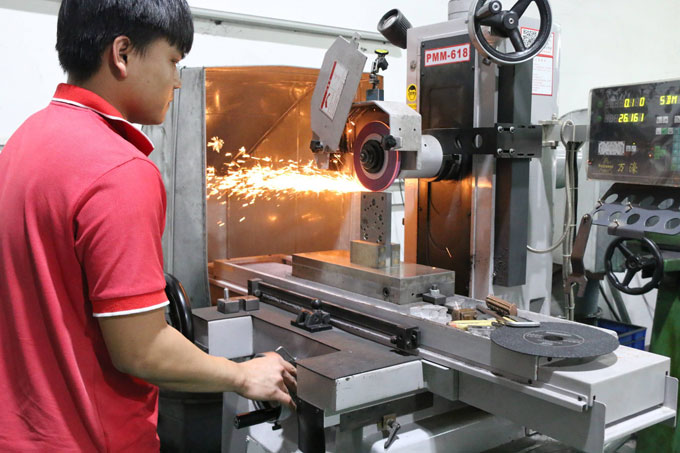 Mold steel ACO Mold injection molding company frequently used:
1.2344, 12343, S136, LKM2316, LKM738H, 1.2083, 1.2312, 1.1730, H13, P20, MOLDMAX-HH
When selecting mold steel, the injection molding manufacturer must not only consider the process requirements that the mold has to meet, the service life requirements, but also the mold steel price, that is, the mold making cost. For example, if the mold service life requirement is 100,000 times, it is not necessary to use longer-life (such as 1 million times) mold steel to make mold. So the principle of ACO Mold injection molding company is to manufacture economical injection mold that meets both the high-quality products production requirements and the reduction of mold making cost.
Mold making ability
People who service you
8 mold designers with 10 years experience
12 mold engineers with more than 10 years experience
60 well trained mold maker with more than 12 years experience
8 after-sale service personnel
Facility including but not limit to
9 sets of CNC, precision 0.005mm
13 sets of mirror EDM
8 sets of wire cutting machine
18 sets injection molding machines range from 60 Ton to 800 Ton
1 set of 2D projection measurement
1 set of CMM
1 set of three coordinate measuring instrument
Logistic
We have rich experience in cooperating with international shipping companies, to protect your cargo transportation and guarantee the delivery time.
ACO Mold is an injection molding company located in Guangdong China.
We have our own well-equipped mold making & injection molding plant, concentrating on providing one-stop plastic molding service with more than 10 years. Welcome to ACO Mold injection molding manufacturer and contact us to get free quote. Mold engineers will give your company the best solutions and recommend suitable materials.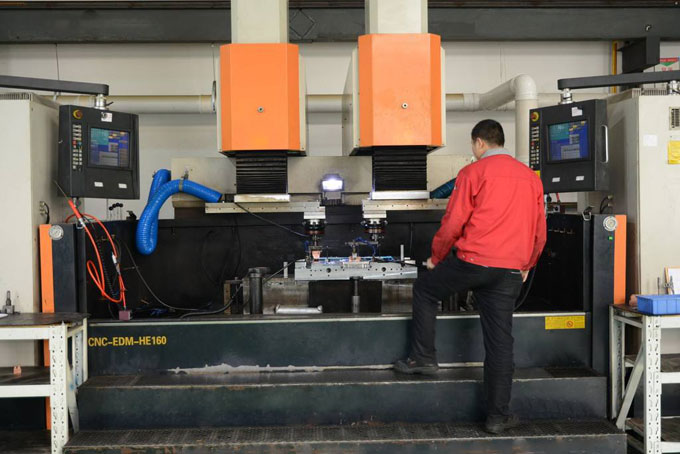 Part weight
Number of impressions
Runner weight (if applicable)
Material cost include masterbatch etc.
Cycle time.
Machine set/shakedown time
Full time or part time machine minder
Assembly/printing/trimming
Injection molding machine cost/hour
Floor space cost/hour
Packaging
Delivery charges.


But, I was wondering if the metal media molds had been attempted and if so, how they hold up for a longer production run? Not necessarily in the millions of pieces, but for small runs of product.

So, my two questions are:
1. Has anyone tried it?
2. Has anyone seen any research on the matter?


In an ideal world there are only the best customers and suppliers. In the real world we have customers who don't know anything about tooling and then injection mold manufacturers as a customer which use other manufacturers for contracting. One can't suppose that the customer always knows what's the best for them. This leaves a big responsibility for the supplier. Injection molding tools are often unique pieces, therefore they can't be treated as car in manufacture.


When I am thinking about making an injection mold, I will first of all take into consideration commercial factors such as Schedules (Orders), Component cost, Machine Tonnage, Mode of transportation. Financial viability alone will decide those inputs into plastic injection molds. One can't plan an injection mold for 50Mn life if the orders are not even for 2 Mn plastic parts! This is as simple as that.


When the injection mold was brought up was a complete decoupled (scientific) molding DOE performed? If so then this should have data defining the processing parameter relationships and, from there, you can see how moving settings will affect the plastic part. This also reveals injection mold performance issues as well as press issues. Not doing this often leads to discussions and answers like these, it's all over the place. The answers are not wrong but also are not aligned with the problem. Let's be honest with this, you can't solve a problem in a general sense only in a specific sense so tossing ideas around is interesting but let's not kid ourselves that this necessarily is helpful.

One thing I always do with my injection molds is provide for instrumentation. This means have thermocouples and pressure transducers in the first injection mold of any new design. While I don't always install the pressure transducers I always have locations ready for them. However, you can never have too much thermal information so I always have a lot of thermocouples where I feel I can get the most useful data from.
If possible, the number of cooling channels should be as many as possible, diameter of the cooling channel should be design as large as possible, cooling speed of A is faster than B as figure below. Diameter of cooling channel usually are 6-12mm.